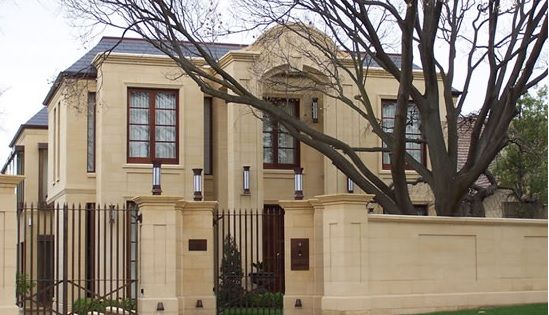 Architectural Features
Lightweight Stone Paint
Easy to transport and install
Strong and Durable
Reduced Labour time
Wide range of colours
Luxury Apartment Facade Solution
Non-combustible
Designs are limitless
Interior and Exterior application
Adds the timeless look and feel of real stone
It looks like real stone because it IS real stone!
Spray-on Stone™ is a revolution in domestic and commercial building interior and exterior finishes. Made from real stone powder, Spray-on Stone™ is indistinguishable from solid stone blocks*. Spray-on Stone™ creates the look of real stone at a fraction of the cost and weight involved in sourcing and working with real stone blocks.
Paint your project with stone. Weatherproof, durable Spray-on Stone™ - real stone, real quick.
The high-performance bonding resins in Spray-on Stone™ make it a durable and tough alternative to traditionally rendered finishes. Its flexibility means that it won't blister or crack with every minor movement of the substrate.
Spray-on Stone™ is impervious to extremes of weather, and is water, UV and pollution resistant. Being a sprayable finish, it's fast and cost-effective to apply compared with other methods. And, because it is made from real stone, it will maintain its colour, year after year, without fading.
* Subject to correct substrate preparation and product application. This is a product for professional use, and is only available to construction professionals.
** To confirm substrate suitability, call our support line on 1300 38 38 84.
Spray-On

Stone™

is a weather-proof, high durability stone and acrylic composite paint.
Spray-on Stone™ is amazingly versatile, and can be used on exterior and interior walls, columns, corbeling, pre-fabricated concrete surrounds or wherever a real stone finish is desired. Perfect for builders wanting a quality finish on houses, town houses and apartment buildings.
Spray-on Stone™ can be applied to a broad range of substrates**, providing the surface is solid and flat. Ideal substrates include concrete, brick, cement render, Magnesium Oxide (MgO) wall board, fibre cement sheet or composite boards which are inherently weatherproof.