UltraMgO Partiti

o

n wal

l is...
Ultra Fire Resistant -Tested and certified with a FRL of 120/90/90
Ultra Quiet - Surpasses the BCA acoustic performance requirements with a
RW+Ctr = 53
Ultra Easy - Simple installation by carpenters with no need for specialist trades.
High performance in both Fire and Sound
UltraMgO™- Partition has been tested and certified to Fire Resistance Level (FRL) 120/90/90 with an acoustic rating of RW + Ctr = 53.
Our high fire rating provides a substantial margin of error where a 60 or 90 minute partition wall is required, and its excellent acoustic performance results in a very quiet real-world partition wall. That means no complaints from tenants.
Architects, Builders and Surveyors, can specify and use UltraMgO™ Partition with complete confidence, knowing that it carries a full and current list of approvals. Contact us for your copy.
No plasterboard means no water damage, no cracking and no compromising of your fire rating.
Gypsum (Plasterboard) based Partition walls are vulnerable to water damage on building sites. Many construction companies have discarded several sheets or even entire pallets due to water damage. Installing wet plasterboard risks mold growing inside the wall cavity, resulting in expensive warranty claims. At the same time, plasterboard which has been soaked is unlikely to be able to maintain its fire rating when the time comes.
UltraMgO sheets on a recent Melbourne project site. Carpenters using the MgO pallet as a cutting bench - Ultra tough!
Hairline cracks in plasterboard - the weakest link in Shaftliner walls.
An even greater problem for plasterboard is its tendency of developing hairline cracks (internally) while being flexed during on-site handling or during installation. Just a small hairline crack in a single sheet of plasterboard can spell the end of your fire rating. The natural flexing of sheets during a fire, ensures that a hairline crack will continue to open up, spelling the end of your fire rating. By comparison, UltraMgO™ will not crack. No damage = no costly wastage and full fire integrity.
UltraMgO. A vastly superior building board on your project site.
With incredible bending strength of 10Mpa, UltraMgO is designed to flex.
You won't damage it during handling or installation, and if you happen to leave it out in the rain for several days it won't be affected!
UltraMgO is rot proof and cannot support mold. Providing the sheets are free from dirt or other organic material when installed, you've got no worries!
It's how a serious building board should perform.
Built with MGP 10 standard pine framing, Earthwool insulation batts and small brackets - Simple!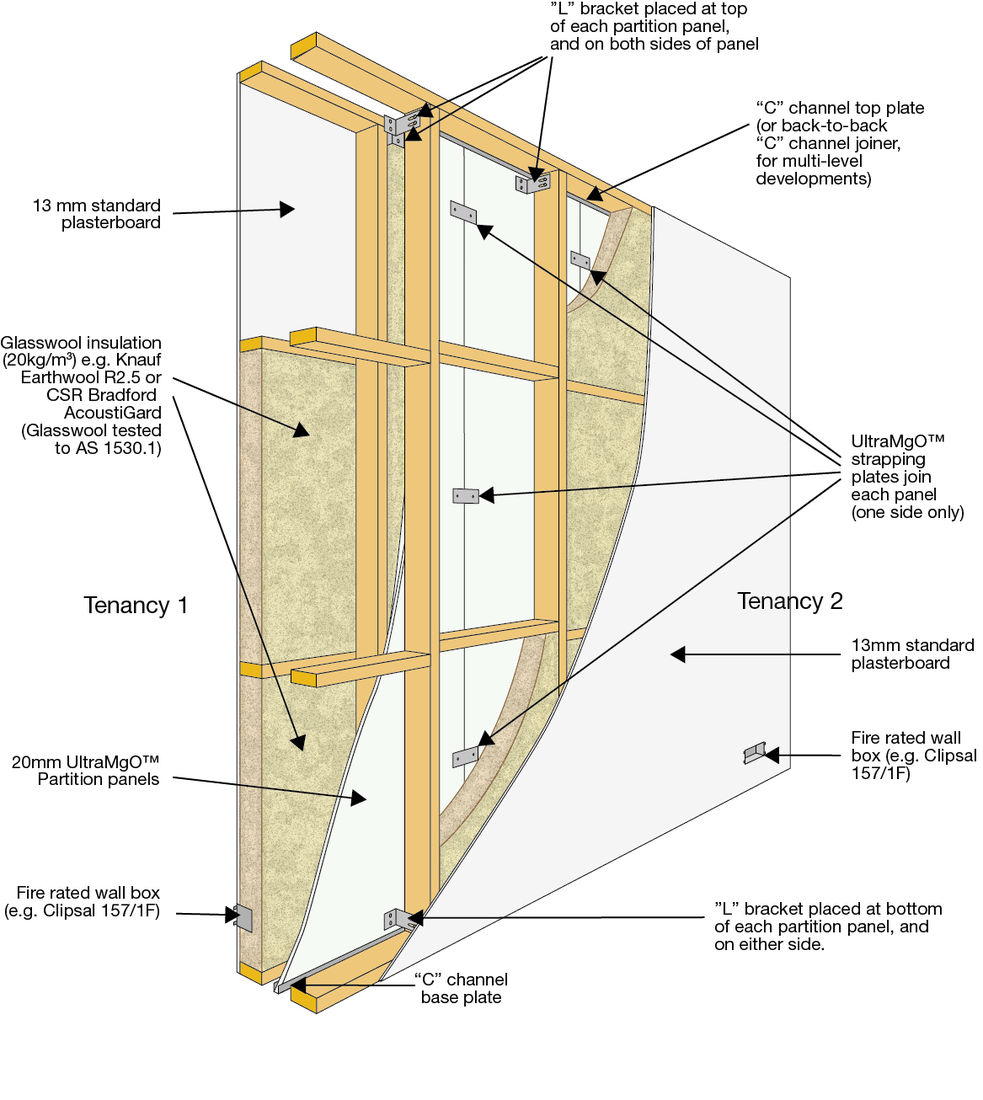 No specialist trades required. Easily installed by carpenters.
When you're running a building site, time is money, and there's no time to wait for a specially trained installation crew to arrive. Not to mention the extra cost it adds to your project.
Lightweight, flexible and easily assembled. UltraMgO-Partition begins with a U channel on the ground. A bead of Firemastic on each shiplap edge holds the sheets in place. Three flat brackets per UltraMgO sheet (six screws total) over each board edge and its almost done.
And our unique design means that only one pair of L brackets per UltraMgO sheet is required (sheet to stud connection).
Fast and easy. Exactly how a Partition wall should come together!
Fire Separation Walls
Should extend completely to the underside of the roof
Mineral fibre should be in place between the wall and to the underside of the roof sheeting

Should be fully sealed to the roof with no penetrations

Should have no timber penetrations except for roof battens greater than 75X50mm

There should be no gap greater than 50mm between the wall and underside of the roof which should be packed with mineral fibre
A Fire Separation Wall (PartyWall) is a wall with appropriate resistance to spread of fire that divides a storey or building into a fire compartment - stud wall that divides an interior space without bearing any load