Rockbatts™ Mineral Wool
Rockbatts™ Mineral Wool insulation is a high quality thermal insulation batt that ensures your pine frame wall achieves FRL 60/60/60
RockBattsTM combine exceptional high temperature performance (700 Celcius continuous operation) with excellent noise reducing properties and a natural ability to repel moisture.
These enviable characteristics make them the smart choice for PartyWall systems over fiberglass batts which retain moisture and may lead to condensation and mould problems for building occupiers.
Spun from molten basalt, Rockbatts TM combine with our UltraMgOTM wallboards to deliver high-performance fireproof external or partition wall systems.
Achieve your required insulation R value with RockBattsTM
RockBattsTM are R2.5 rated batts which means your required wall R value is achieved automatically - no guesswork and no need to use thicker internal plasterboard to help get you over the line.
Cut to size so you can get on with the job and no tedius downtime
RockbattsTM are pre-cut to size for our PartyWall and External wall systems, letting you get on with the job, while ensuring your fire-rated wall is built to the highest possible standard.
When you optimise your construction project by using Rockbatts™ Mineral Wool insulation you will create a passive energy saving feature that will perform for the life of the building.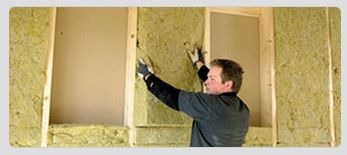 KEY BENEFITS OF USING ROCKBATTS
Thermal insulation−Mineral wool is an excellent thermal insulator due to its intertwined fibers which form low-density air cells within the material.
Acoustic soundproofing −Mineral wool absorbs sonic energy and is often used to improve the acoustic performance of walls, ceilings, floors, and roofs.
Fire Safety – A major advantage of mineral wool products is that their fibers are non-combustible.
Being made up of at least 95% stone wool makes this product an excellent choice for it's non-combustability.
Their use as thermal or acoustic insulation therefore contributes to the fire safety of the building or area.
Sustainability⁄Rockbatts™
Mineral wool is made up of natural and renewable raw materials. It does not contain carcinogenic materials. It is one of the most energy-efficient building materials. The energy saved from its use as a thermal insulator quickly eclipses the cost of its sourcing and manufacture.